---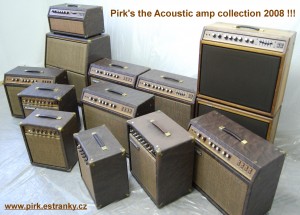 It's hard to find Acoustic G100T's as others from ACC. If you can find one...Buy it! If Carlos Santana, Robben Ford or Larry Carlton ever heard this amp they would offer me big-bucks for it but I wouldn't sell it..... That's how damn good it sounds !!!
pirk@seznam.cz
The Acoustic Control Corporation was an amp/pro-audio manufacturer from Van Nuys, California right near Fender factory in the good old USA. The company was founded in the late 60´s and closed in the mid 80´s. If you know anything about this amp company you know that these were some of the best musical instrument

amps made in the 70's and 80's. It ´s a very rare piece of a good musical history. Probably the best musical instruments amplifiers that were ever built. I wish to each other has the Acoustic amplifier too. Acoustic Control Co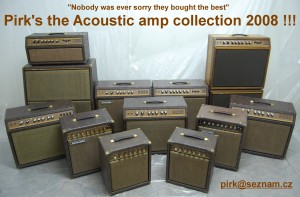 rp introduced many innovations into musical instrument amplifiers. The contributions of Acoustic include front mounting of speakers, removeable grilles, separate preamp and powered speaker enclosures, and the best sounding most dependable equipment ever produced. Acoustic produced very high end musical equipment that featured a lifetime warranty to the original purchaser. Acoustic Control Corporation has been out of business for some time. So of course these amps are no longer being made - and very few modern amps are manufactured with the high quality of parts that Acoustic required. Acoustic´s work great with fantastic sound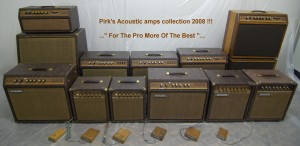 and projection. The sound is excellent, with clean as well as overdriven tones, and naturally very penetrative sounds. These amps are becoming collectible because of the fact that they were some of the last amps built by a real company in the USA. Their quality (and quality control) was superb. Amps like these(unfortunately) cannot be made in large quantities any longer, because they would not be able to compete with (lower quality) imports. So many PRO's have used these Acoustic amps on the road for actual concerts and recording sessions. Names like Led Zeppelin, Foghat, BTO, Leo Sayer, The Eagles, Paul McCartney and Wings, Alice Cooper, The Jackson Five, Larry Coryell, Quatro, Uriah Heep, Chicago, War, B.B. King, Bobby Blues Band, Tim Weisberg, The Osmonds, Eddie Kendricks, Ike & Tina Turner, Wishbone Ash, Boz Scaggs, Ballin' Jack, Billy Cobham, Earth Wind and Fire, Jerry Lee Lewis, Rare Earth / Dr. John "Midnight Special", John Mayall, Savoy Brown, Cold Blood, Canned Heat, Smokey Robinson, The James Gang, Edgar Winter, James Cotton Blues Band, Joe Walsh, Elvis Presley, Jethro Tull, Humble Pie, Carlos Santana, Robben Ford, just to name a FEW !! There are many others, way to numerous to mention !!
"NOBODY WAS EVER SORRY THEY BOUGHT THE BEST"
Sbírka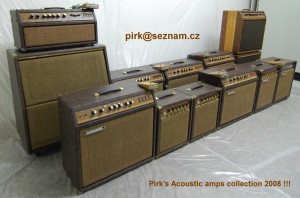 vintage kytarových aparátů od dnes již zaniklé kalifornské firmy Acoustic Control Corporation USA. Prostřednictvím těchto stránek zveřejním svoji sbírečku a zkušenosti s těmito aparáty. Acoustic Control Corporation, před téměř 40-ti lety stál na samém vrcholu pyramidy výrobců nástrojových aparatur. Jejich kvalitní aparáty užívali či stále ještě užívají hráči jako Sting, Jaco Pastorius, Frank Zappa, Carlos Santana, Neil Rodgers a další. Každý z nich si svůj Acoustic střeží jako oko v hlavě. Ke mně se Acoustici dostali z nejrůznějších směrů a každý má svou zajímavou historii z níž se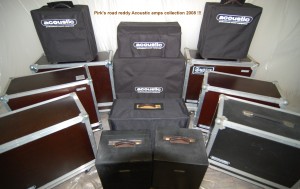 pokusím na těchto stránkách něco málo poodhalit ... The Acoustic Control Corporation sídlil ve Van Nuys, Kalifornie, právě na dohled od továrny Fender ve starých dobrých Spojených státech Amerických. Společnost byla založena v 60-tých letech a činnost ukončila v polovině let 80-tých. Jednalo o jednoho z nejlepších výrobců nástrojových aparatur v USA vůbec. Acoustic Control Corporation skutečně přinesl celou řadu inovací do produkce nástrojových aparatur. Jisti si svou kvalitou poskytovali každému prvnímu vlastníku jejich výrobku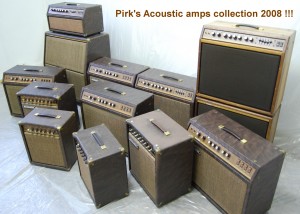 velkorysou a na svoji dobu nevídanou doživotní záruku-"lifetime warranty". Aparáty od firmy Acoustic se dnes s odstupem téměř 40-ti let od své výroby ukázaly jako téměř nezničitelné. Nejdůležitější je jistě fakt, že i po dlouhém čase si všechny dochované produkty udržují nejvyšší stupeň zvukové kvality a odolnosti. V dnešní době jsou tyto aparáty stále vyhledávané profesionálními hráči a hudebními studii.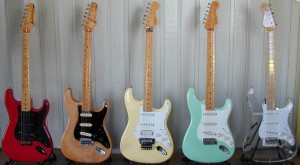 Legendární kytary typu Stratocaster mám nejraději pro jejich absolutní zvukovou univerzalitu a skvělou hratelnost. Takže kdo bude mít chuť a chvilku času, toho na těchto stránkách podrobněji seznámím s mými svěřenci a využiji také toho, že budu mít přehledně uložené všechny údaje a parametry a svou malou sbírkečku pěkně evidovanou ... .
I realized more fully that I have a Strat obsession. NO other guitar does it for me. I can't get excited about any other electric guitar anymore, even if it might play better or sound better, I don't care. It is the only guitar that gets my attention anymore. I look at nothing else in guitar shops now.

Tvůrce stratu Leo Fender jistě netušil, jak dokonalý a geniální nástroj vznikl, když v městečku Fulerton v USA počátkem 50-tých let minulého století, sestrojil v malé dílně první Stratocaster. Netušil kolik více či méně zdařilých kopií stratu bude po celém světě vyráběno a jakého úspěchu beze změn koncepce a tvaru, jeho výtvor dosáhne. Stratocaster již přes pět desetiletí těší hráče i posluchače a obrovsky přispěl k rychlému a převratnému vývoji moderních technik hry na elektrickou kytaru. Když dnes na ulici požádáte deset náhodně vybraných lidí o nákres elektrické kytary, tak zaručeně 9 z oněch 10 nakreslí kytaru jejíž tvar bude více či méně odvozený od tvaru originálního Stratocasteru. Tato jednoduchá koncepce kytary fascinovala již mnoho lidí a jistě do svých tenat v budoucnu další oddané příznivce získá a tak berte prosím tyto stránky jako další pokus o vzdání holdu této "nejlepší kytaře na světě".
Mottos:
"Whacking the amp with my fist solves it!"
"If you make a mistake, play it twice, so the audience thinks it's intentional"
"I can't is the seed that never grows"
"Music has no language barrier"
"No matter how long you play the guitar, there's always something else to learn"
"Too many guitars? What's that mean?"
"Music is the only universal human language"