---



Cimar Stratocaster® japan IBANEZ Hoshino Corp.Japan (MIJ). This Cimar looks and sounds amazing and is a fabulous replica of a Strat. Made in 1982 at the FujiGen Gakki factory during the 'Golden Age' of Japanese guitar making in all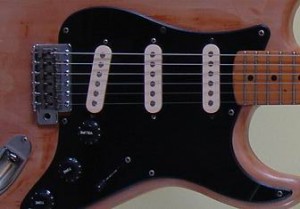 original condition. The body is a glorious piece of Basswood (Tilia americana). This is a lighter weight wood normally producing Strat® bodies under 4 lbs. The color is white, but often has nasty green mineral streaks in it. This is a closed-grain wood, but it can absorb a lot of finish. This is not a good wood for clear finishes since there is little figure. Sound-wise, Basswood is a fine tonewood it has a nice, growley, warm tone with good mids. Basswood does have a more resonant acoustic tone. The finish itself, a natural body, once it was profesionally un-painted out of two tone sunburst and waxed up the body. The finish has yellowed nicely adding to the mojo of the guitar. The

maple neck is a typical quite chunky"C"profile, but I find it very comfortable to play. The guitar really does play like well, with a medium to low action, which I personally feel is perfect for a Strat. The neck and fretboard have naturally relic'd, as you will hopefully see in the photo's. All original. 3 position mechanical selector switch which has mini-detents in the 2 and 4 positions. You can feel them when you are switching, just like a vintage original. An incredible sounding 'Strat emeticulously copied. The original pickups hav
e a true 'vintage' Strat tone, this being due, I'm told, to the Japanese makers close studying of early Strats, and producing a pickup with the same sonic qualities. The mid is perfect for Country and the bridge has that classic Strat twang. The 2 and 4 positions have plenty of Strat Quack, while the neck is rich and smooth. This Cimar has the very slightest hint of fret wear but is completely original. It plays great with a low action, sounds incredible and is one really cool axe. Highly regarded among players and collectors. This Cimar is one of the finest and easily as good as a couple of Tokai's that I was lucky enough to play. As I told, it is hard to be too critical when it is such a good value Japanese made guitar.
Tento, vintage stratocaster jsem koupil v dubnu roku 2006 ze severního Německa od majitele, který si nechal u kytaráře odstranit původní dvoutónový sunburst a zvolil ryze přírodní dřevo jako povrchovou úpravu s finálním zavoskováním. Strat byl vyroben okolo roku

1983 v japonské továrně FujiGen Gakki, kde vznikalo opravdu velké množství nástrojů se standartně poměrně vysokou kvalitou provedení. Krk tohoto Cimaru je provedení One-piece Maple s přidaným Maple hmatníkem a jeho zpracování je přesné, takže také přesně ladí ve všech polohách. Ladící mechanika, byla vyměněna za osvědčenou Fender®Gotoh Vintage Style Tuning Machines a teď naprosto spolehlivě drží celkové ladění kytary. Tělo je dokonale konturovaná a tvarovaná kopie originálního USA stratocasteru. Pro body bylo použita japonský Basswood a má opravdu dobrý sustain. Cimar má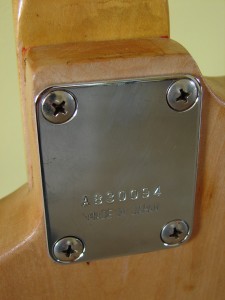 veškerý hardware originál japan v super zachovalém stavu, mimo výše zmíněné ladící mechaniky. Originální jednovrstvý černý pickguard se snímači FujiGen - Japan single coils pickups, které mají covers v barvě aged - ivory. Originál Japan vintage single coils pickups hrají bezvadně a hlavně výsledný zvuk je snad nejblíže skutečnému Pre-CBC soundu ze všech strat copy, které jsem kdy měl v ruce. Celkově mohu potvrdit, že ani stáří téměř třicet let tomuto stratu naprosto nic neubralo na zajímavosti a originalitě. Cimar byla obchodní značka, kterou používala japonská společnost Hoshino Corporation, mimochodem vlastník prestižního loga Ibanez. Společnost Hoshino Corp. si veškeré nástroje nechávala vyrábět na základě smluvy u nejpřednějších japonských továren na výrobu nástrojů, jako byly fabriky FujiGen Gakki nebo Matsumoku. Společnost Hoshino Corp. Japan se v 70-tých letech obávala nákladného vleklého soudního sporu s Fender USA proti svému, v té době již na světovém trhu úspěšnému logu Ibanez a proto, pro výr

obu precizních "lawsuite era" kopií kytar alá Fender a Gibson zvolil nové v té době ještě nic neříkající názvy. Loga jako Cimar, Maya, Luxor, Greco, Kasuga, a další byli v legendární továrně FujiGen Gakki značeny na hlavy kytar místo logo-nápisu Ibanez. Ve FujiGen Gakki příliš nerozlišovali logo označení nástroje jenž se otisklo až po kompletaci nástroje, ale o to víc dbali, aby opravdu každý kus zde vyrobený byl kvalitně provedený nástroj s dobrou trvanlivostí..
MODEL NAME: Cimar Stratocaster® japan IBANEZ Hoshino Corp. Japan
SN: A830094
FACTORY: Fuji Gen Gakki - Japan
SERIES: Vintage Strat Japan
COLORS: Natural Basswood body - WAX
BODY: Comfort Contoured Basswood Body
NECK: Maple, chunky "C" Shape,
MACHINE HEADS: Fender®Gotoh Vintage Style Tuning Machines
FINGERBOARD: Maple, 7.25" Radius (184 mm)
NO. OF FRETS: 21 Medium jumbo Frets
PICKUPS: 3x Japan Vintage Strat Single-Coil (Neck & Middle& Bridge)
CONTROLS: Master Volume,
Tone 1. (Middle Pickups),
Tone 2. (Bridge Pickup)
BRIDGE: Japan Vintage Synchronized Tremolo
PICKUP SWITCHING: 5 -Position Blade,
Position 1. Bridge Pickup (Lead Tone Control)
Position 2. Middle & Neck Pickup (Rhythm and Lead Tone)
Position 3. Middle Pickup (Rhythm Tone Control)
Position 4. Middle & Neck Pickup (Rhythm Tone Control)
Position 5. Neck Pickup (Rhythm Tone Control)
HARDWARE: Chrome
STRINGS: D´Addario EXL110 (.010 - .046)
CASE: Gigbag Excel
PICKGUARD: 1- Ply Black SSS
SCALE LENGTH: 25.5" (648 mm)
Náhledy fotografií ze složky Cimar