---
Fender Blues Junior Texas Red LTD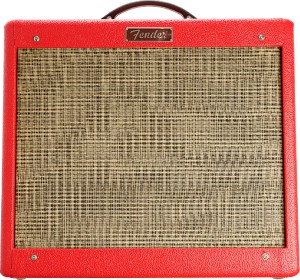 A LTD Edition with a Feisty "Texas Red" Look!
The Blues Junior™ Texas Red all-tube combo amp brings you the tone that has made FENDER® amps famous- all wrapped in vibrant, "Texas Red" vinyl with a wheat grille cloth. Five tubes (three 12AX7s in the preamplifier stage with a pair of EL84 handling power amp duties) provide perfect tones with the world-famous Fender reverb completing the signal path. For tonal versatility, the Blues Junior Texas Red "Fat" switch thickens up the sound for big chords and aggressive leads. This limited edition Blues Junior Texas Red is all about tone and vibe!
The Fender Blues Junior Texas Red, a warm-toned favorite in a super-cool LTD edition finish, takes Fender's 15-watt tube preamp/power amp platform and pushes it through a 12" Celestion Vintage 30 speaker with a ton of vintage vibe. And just to make this an even cooler amp, Fender is limiting production on the Fender Blues Junior Texas Red to just 800!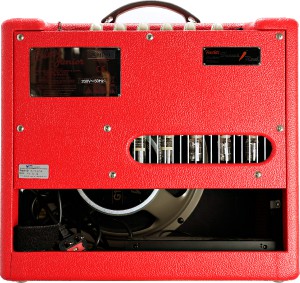 Tubes, electronics, and more!
That classic Fender sound comes courtesy of a pair of EL-84 Groove Tube output tubes and three 12AX7 preamp tubes. Push them hard and you get great overdrive; back off a bit and the Blues Junior Texas Red cleans up for classic Fender "sparkle and spank." Add the renowned Fender reverb, flexible controls, and FAT circuit for golden tones, and you're in business!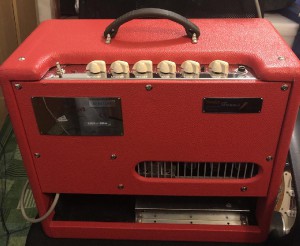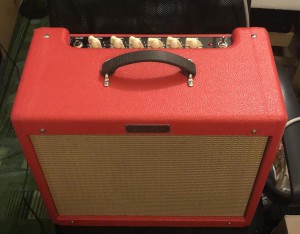 Fender Blues Junior Texas Red Features:
All-tube15 watts into 8 ohms
12" Fender Celestion Vintage 30 speaker
1 Channel
"Fat" Switch,
Reverb
Chrome Panel
Vintage Pointer Knobs
Reverb

"Texas Red" vinyl with wheat grill cloth and brown handle

Tweed series logo and "Texas Red" chili pepper badge

Tube complement: 3x 12AX7, 2 x EL84
Solid-state Rectifier
Connector for optional external footswitch