---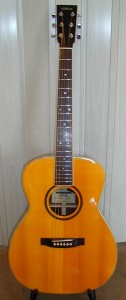 Here is a Kobrle Custom OM - sized acoustic guitar - gorgeous the Spruce "Italian Dolomites" wood for top with special "X" bracing for stage performance and mahogany back and sides handcrafted by Libor Kobrle - Luthier from Prague, the Czech republic. I think it's interesting that the highest-quality European guitars are associated with an individual maker's name. Libor Kobrle's craftsmanship is amazing. He hand build acoustic and electric gu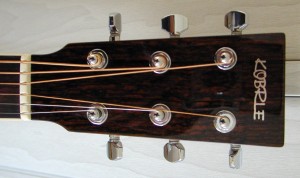 itars to custom specifications for musicians who are looking for a unique instrument at a reasonable price. I am very impressed with his craftsmanship. The assembly, gluing, and finish work is impeccable. The master grade woods used on this OM sized guitar have come together to create a stunning work of art! It begins with the back and sides of mahogany. It has all of the balance, clarity, and string-to-string separation that mahogany is known for. The selected Spruce (wood) - Italian Dolomites for a top adds that rich, warm, low end response that is a perfect tonal balance to the mahogany. The woods are gorgeous. The "X" bracing system was pat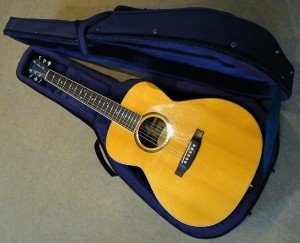 ented in the 1850's and has been the industry standard since that time. The "X" bracing is the model, pattern, template and standard used the world over for reinforcing steel string guitar faces. In this segment, bracing and tone bars are added to the guitar's top and back. These additions, located ultimately inside the guitar, impact the sound of the instrument more than any other step in the process of guitar-making. Luthier's refer to this most critical step in the guitar-making process as "giving voice" to the guitar. It provides much of the beautiful and nuanced tone of an expertly crafted guitar. To the sound this the guitar has a very pleasing tone to my ears. I am most particular about the treble sound, and this guitar has a sweet treble. The treble is especially bright and ringing, wh
ile the bass is deep and wooden. The treble is also very responsive as well as so fat and full, they almost spit out of the guitar with such ease. Trebles ring, mids are bright and the low end is surprising for an OM sized body. I am very pleased with that. The Mids are warm and rich. It is simultaneously rich and bright, with well-defined mids. Overall, the sound is shimmering with balance and clarity; not too much bass but just enough, excellent midrange tone and highs with this expressive charakter, the tone is balanced and the instrument is very responsive to touch / attack. Has excellent projection and note to note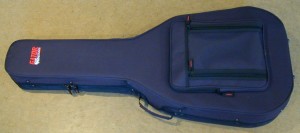 separation with quick response. The little box is surprising loud when strummed hard, but can also be quite responsive to a very soft touch. Can be played as softly as one would like as well as being driven hard. It has always maintained a exceptionally even well balanced articulate voice. Each string well defined and balanced amongst themselves. The sustain is also wonderful. This is a guitar that sounds very good strummed with a flat pick. However, for fingerpicking, it excels. This is consistent with how this guitar was made in the '30's. This is just a simple, Fantasticly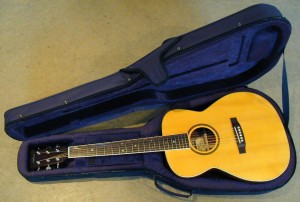 crafted Instrument. This guitar allows me to produce tones of my dreams, Such Character. There is something unique about the fretboard radius that is more natural for me than other acoustics. Perfect intonation. The tuners are super accurate and hold pitch well. The action is spot on - no buzzes any where on the neck and like butter. Bar cords high on the neck, spread out fingering, you name it - this guitar makes me sound like a better- cleaner - player than I am! It's just what I hoped for. This guitar also include Fishman's Ellipse Blend system that provides non-invasive controls located inside the bass-side lip of the soundhole. The Ellipse Blend makes it simple to upg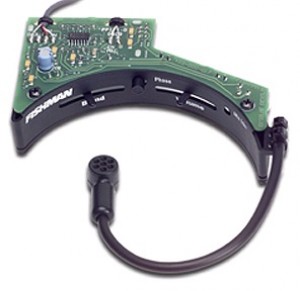 rade to a complete Fishman onboard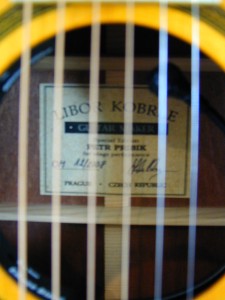 blending system, complete with the responsiveness of a condenser microphone. And, because the Ellipse Blend is discreetly mounted inside the instrument's soundhole, it is nearly invisible once installed. The Ellipse sound system contains an internal microphone and an in-bridge piezo which, together, form the active Fishman Ellipse Matrix Blend sound system. The volume, blend and other controls - and the battery - sit inside the upper rim of the soundhole and are held there magnetically. This means that the battery - which sits in a nylon bag - can really only be changed if all the strings are removed. I don't think this is a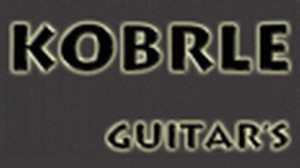 particularly good feature and is the one flaw in the overall design. The sliding blend control is complemented by the sliding volume control and an anti-feedback button. In my opinion it should be set to equal volume as the piezo so the two can easily be blended together in equal proportions. I use it for live performance and especially like it for the big stage. It is just a joy to pick this Kobrle Custom OM - sized acoustic guitar up and play every time.
Here is the complete low-down on a features
Model : OM
> Top: Selected spruce - Italian Dolomites , special "X" bracing for stage performance
> Brace: Spruce
> Kerfing: Cedar
> Neck & tail block : Mahogany
> Sides : Mahogany
> Back: mahogany plywood
> Neck, mahogany V-shape
> Fingerboard: rosewood
> Headplate : brazilian rosewood
> Truss rod: 2 - way action
> Bridge : rosewood
> Nut & Bridge sadle : Bone
> Glue : Titebond
> Pickguard : Mylar
> Finish: Body - NItrocellulose Lackguer, high gloss
> Neck - NItrocellulose Lackguer, matt
> Headplate - NItrocellulose Lackguer, high gloss
> Machinedeads : Gotoh, Japan
> Pickup & Electronics : Fishman Ellipse Blend
> Strings : D´Addario EJ26 Custom Light 11-52
> Capo : "Holoubek – Czech republic" Custom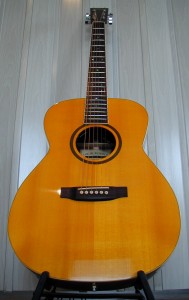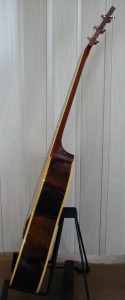 Zde je Kobrle Custom OM – sized akustická kytara. Jedná se o custom nástroj na jehož vrchní desku bylo použito výběrové dřevo the Spruce "Italian Dolomites", se speciálním "X" bracingem pro pódiové hraní, spolu s mahagonovými luby a zadní deskou, to vše ručně zpracováno s nejvyšší kvalitou řemeslného provedení od mistra Libora Kobrleho - Luthiera z Prahy. Myslím, že je velmi zajímavé povšimnout si faktu, že všechny opravdu kvalitní kytary vyráběné v Evropě jsou vždy spojovány právě s individuálními jmény svých výrobců. Liborova zručnost a řemeslnost je úžasná. Staví ručně akustické a elektrické kytary přesně podle speciálních požadavků muzikantů, kteří shánějí unikátní nástroj za rozumnou cenu. Liborova řemeslnost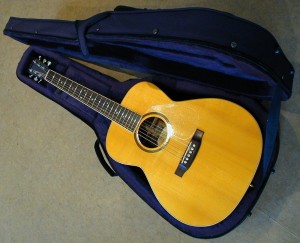 mi imponuje, kompletace nástroje, čistota lepení a hlavně celkové finální provedení nástroje je vždy naprosto bezchybné. Ideální volba a výběr dřeva plus Liborův craftmanship umožnili vytvořit jedinečný nástroj. Začněme od zadní desky a bočních lubů, které jsou vyrobeny z mahagonu, jenž má dobrou zvukovou vyrovnanost, průzračnost a "string-to-string separation" pro kterou je tento materiál asi především znám. Ona "String-to-string separation" znamená že, každá jednotlivá struna je po zahrání bez problémů zvukově rozpoznatelná a srozumitelná, což je důležité při hlasité, nebo vícehlasé hře. Vrchní deska z výběrového smrku původem z italských Dolomit přidává zvuku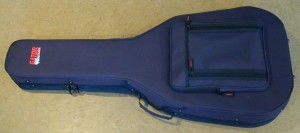 bohatost, vřelost a spodní frekvence což je ve spojení s mahagonem výborná kombinace pro celkový výsledný zvuk kytary. Pro vyztužení vrchní desky byl Liborem Kobrlem zvolen "X" bracing, což je tradiční výrobní způsob, technologie, kumšt, ale hlavně standart užívaný výrobci po celém světě pro vyztužení a podporu vrchní desky u akustických kytar s kovovými strunami. Zajímavé je, že "X" bracing byl patentován již v roce 1850 a od těchto časů je stále stabilně přítomen

v odvětví výroby hudebních nástrojů jako jedna ze standatrních výrobních technologií. Zjednodušeně řečeno dovnitř nástroje se přesně dle potřeby vsadí "výztuhy", které ve výsledku umocní celkový zvuk nástroje víc než kterýkoliv jiný krok při procesu jeho výroby. Výrobci kytar označují tento moment za nejkritičtější krok v procesu výroby každého jednotlivého nástroje. Jde podle nich o jakési "vyladění hlasu" vyráběného custom nástroje.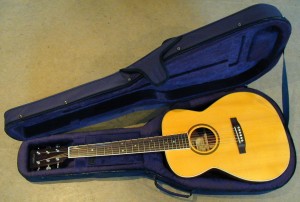 Právě toto pak poskytuje mistrovsky postavenému nástroji ještě více bohatých tónů a zvukových nuancí. Také tato Kobrle OM akustická kytara má precizně vyladěný hlas, který velmi lahodí mému uchu. Většinou bývám v rozumné míře kritický právě k charakteru a barvě "výšek", ale tato kytara má výšky přesně tak jak mají být. Výšky jsou správně "cinkavé" a "zvonivé" zatímco basy jsou hlubší a dřevitější. Výšky mají stejně tak dobrou "odezvu" jako zvukovou "tloušťku" a "plnost". Podle mých zkušeností výšky většinou podivně zanikají právě u kytar tohoto typu a velikosti, takže jsem opravdu velmi spokojen s výsledným zvukem. Střední tóny této kytary jsou "teplé" i "zvonivé" čímž je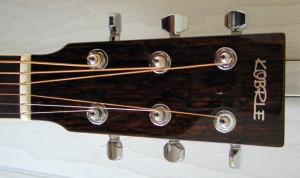 zvuk kytary souběžně "bohatý" i "výrazný" s perfektně definovanými a srozumitelnými "středy". Celkově je zvuk nástroje jasný s mimořádnou zvukovou vyrovnaností a průzračností. Srozumitelnost zvuku kytary je dána zřejmě díky celkové zvukové vyrovnanosti bez obvyklé převahy basů, vše je v ideálním poměru. Kobrle OM kytara má opravdu excelentní zvuk, lehké basy přechází do jasných středů a pak výšek s výrazným charakterem. Všechny tóny jsou krásně vyrovnané a nástroj má úžasnou odezvu dle stylu hry. OM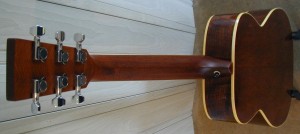 tělo kytary umí být překvapivě hlasité při razantní hře, ale nabízí také bezvadnou dynamiku pro jemnou i velmi jemnou hru a vždy si zachovává dobrou srozumitelnost a barevnost všech hraných tónů. Každá struna je velmi dobře zvukově rozpoznatelná a skvěle zvukově vyrovnaná vůči ostatním strunám. Dozvuk kytary je velmi dobrý, prostě sustain jak má být. Tento nástroj zní opravdu bezvadně při hře trsátkem, ale při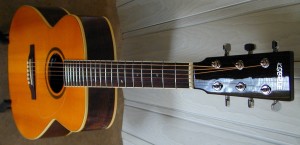 prstové hře doslova exceluje! Vše je naprosto v souladu s tím jak tyto legendární OM kytary byly vyráběny již v 30-tých letech minulého století. Kobrle OM sized akustická kytara je fantasticky postavený nástroj a rádius hmatníku na krku této kytary je pro mne jeden z nejlépe pasujících do ruky ze všech akustických kytar, které jsem kdy měl. Krk má samozřejmě perfektní intonaci a ladící mechaniky drží ladění kytary spolehlivě a přesně. Dohmat je nízký, příjemný a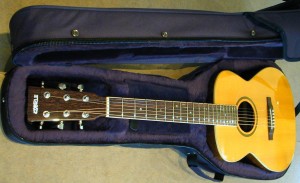 bez "drnčení". Přesně takový nástroj jsem si přál mít a cítím, že na této kytaře zním jako o něco lepší a techničtější kytarista než ve skutečnosti jsem. Pro dokonalý komfort pódiového hraní je kytara navíc vybavena systémem Fishman Ellipse Blend, který nabízí možnost neinvazivního nainstalování celého zařízení do kytary. Montáž Blendu je pomocí magnetu na spodní stranu vrchní desky, tedy s přístupem z ozvučného otvoru a tak je celý Ellipse systém prakticky "neviditelný" hned od svého nainstalování do nástroje. Ellipse zvukový systém obsahuje keramický mikrofon s nastavitelnou pozicí a také in-bridge piezo snímač.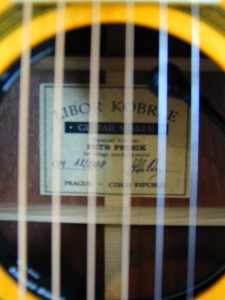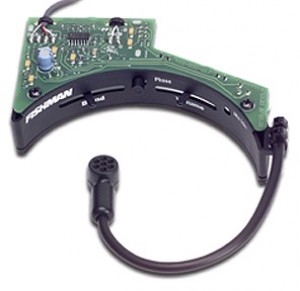 Snímač a mikrofon společně tvoří the active Fishman Ellipse Matrix Blend sound system. Sliding blend control sousedí s the sliding volume control a s anti-feedback tlačítkem. Pro výměnu 9V baterie, je třeba sundat všechny struny což není zrovna ideální řešení pro aktivní hráče, ale nakonec je to vlastně celkově jediný detail, který by snesl mírné vylepšení. Podle mého názoru je nejlepší nastavit oba snímače na rovnoměrný poměr, takto používám pro živá pódiová vystoupení a výsledný zvuk je naprosto super. Zkrátka je to vždy perfektní pocit a zážitek, když si na tuto mistrovskou kytaru od mistra Kobrleho mohu pořádně zahrát a nejlépe s naší kapelou.